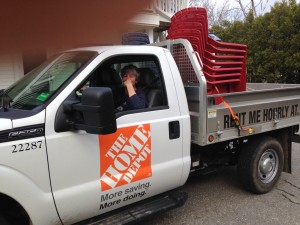 Holy cow: we haven't posted in a while! Now here come the excuses…but summer crept up on us and it's all we can do to manage an occasional Facebook post. Then again, maybe "crept up on us" is too gentle a metaphor. How about, summer ran up behind us new Maine innkeepers and hit us with a croquet mallet? Or a lobster pot. Take your choice. In our May newsletter we wrote about the projects we immersed ourselves in until, one day, paintbrushes still in hand, we looked at the reservation book and said wow, we're almost full tonight (and the next night) what should we bake?
But we miss our blog so we're going to a new strategy that will keep us posting, hopefully: shorter posts, sometimes organized around a running topic. The topic I'll start today is Food.
And another new thing will be that we'll have individual by-lines for our posts (journalist-speak for "By"). We've written the posts individually but never indicated who wrote them, and using the collective "we" has gotten old. Time to shift into "I" and use "we" when and where it fits.