Hi 2021 Towne Motel guests! We are open,  following Maine's travel regulations: Currently No restrictions for residents of ME, VT, RI, CT, MA and NH. All others need a negative Covid test, full vaccination, or two week quarantine. On May 1, these restrictions will be lifted for all states! As you can imagine, we have been having a pretty quiet season so far,  which can be a good thing for travelers in need of relaxation and restoration! Yes, not all restaurants are fully open, and the boats are following a different schedule, but there are also fewer travelers to vie for them. And there is plenty of what you probably came to Midcoast Maine to enjoy: trees, lakes, trails, ocean, mountains, and other forms of natural beauty, all of which are good for your health and usually allow for plenty of social distancing.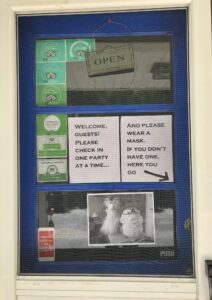 But of course, we want you to stay healthy and safe in and around our property as well. Immaculately clean rooms have always been a top priority at Towne Motel, but this year we have been working hard to make changes required by the state of Maine, recommended by hospitality organizations, and suitable for our property, guests, and employees. The following are also based on a class we took this spring, "Lodging Foundations," a COVID-19 online training course developed by Hospitality Maine, in conjunction with Eastern Maine Community College. 
Here are some of the changes we have made for the (un)foreseeable future:
Checking in: Our check in process can be as contact free as you'd like it to be. If you prefer not to come into the office, you can let us know by phone or email in response to your reminder email, and we will let you know how and where to get your key and welcome note. Office check ins will be limited to one (small) party and / or person at a time, and commonly used surfaces and items will be sanitized after each check in. We will be wearing face coverings during check in, and we request the same of  our guests. If you can't find your mask(s), we have some for you outside the door, and there are hand sanitizers both outside and inside the office.
Common Indoor Areas: given that we have a motel, and will not open our dining rooms until it is safe enough for guests and staff to do so, the only indoor area visited by several people a day is our office, where we are observing social distancing rules as described above. Almost all guest rooms open up to the outdoors; there are only two rooms which share an interior corridor, and that corridor has a window and a door which is open during the daytime. If more than one of these rooms is occupied ( which has not happened so far this year),  please wear a mask as you walk through the corridor. 
Read the rest of this page »