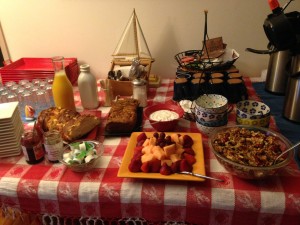 By Siobhan
First food post! Since we spent part of every day planning and baking for breakfast, we thought, hey, why not share recipes we love and reflections on baking? Or cooking (at night). Or giving a shout-out to great local restaurants. But today I want to talk about Mary Tyler Moore breakfasts.
Remember the MTM episode where she plans a party and no one shows up? Or, as I'm remembering it, only Rhoda and maybe her boss, Lou Grant? There was Mary with her onion dip and cheese and Triscuits and wine, waiting for the doorbell to ring.
A friend of mine in grad school called no/few-show parties Mary Tyler Moore parties. So this is what I call breakfasts where, mysteriously, no one (or almost no one) shows up. Imagine planning a dinner party…except you don't ask for RSVPs. Or maybe you do, but no one responds or they just somehow imply they are coming…and you go ahead and throw it anyway. You've invited twelve people so you're cooking for twelve. When we're full at Towne Motel, our breakfast party *might* be anywhere from 34-40 people. Or five.
And there's no way to predict it. Sometimes I try to go by previous patterns (or so they seemed), like: a gorgeous morning means no one will want to sit and chat and re-fill coffees and get to know other guests. Sometimes that's true, and when I open the door at 7:30 I'll note that five cars are gone already (probably on their way to Bar Harbor, especially if they plan to bike). But then there was this Saturday: glorious, sunny, and I think every single guest (we were full) came for breakfast and the dining room was humming. Sunday, it was crickets out there. Or rather, it was "grab and go." Silently. I heard nothing from the kitchen but thought, I'd better go check. And every time I did, more muffins or coffeecake or coffee was gone.
So Random! as my former my students loved to say.
And here's a question to ponder: when guests tell us they will only be running in quickly to get something for the road, why is the verb always GRAB? Always! It's kind of like throwing a steak on the grill. One always must throw steaks and grab muffins.