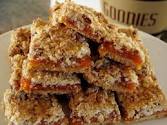 by Siobhan
Here's our first recipe-share post. I think I promised to start doing these last month…and then high season began. Which means we've been really busy. And baking a lot!
This recipe comes with a story. When we were inn-shopping with Rick and Janet Wolf of The B&B Team, they noted how important the "hand-off" process is: the transition between the sellers and buyers/new and old innkeepers. If you're very lucky, you buy a successful property from wonderful innkeepers. We were very lucky. Rick and Jane Ellis were and are teachers, mentors, and true friends. We're still e-mailing them questions–sometimes frantic ones. They always reply super-promptly, with lots of details and reassurances. As I wrote in our first post, it takes a village. We're still learning.
Jane generously left us with a folder of her "greatest breakfast hits" at Towne Motel, and every so often in our emails she would ask, "Have you tried (recipe X) yet? Remember the file is in the black hutch in the dining room." And we would say oh yeah, Jane's file! Then the phone would ring or some other (take your pick) distraction would ensue, and we'd flake off about the file once again.
Then fate intervened. A family from Brooklyn who stayed at Towne Motel last summer returned last week and told us about Jane's apricot squares. The kids were raving about them (and missing them) A YEAR LATER. This family was going out to Vinylhaven Island for a few days and staying with us again later in the week. So I emailed Jane for the recipe. She replied within hours: this was her most popular offering ever! Lots of requests for the recipe from guests. And guess what? The recipe was in the file, in the hutch. This time I actually went to the hutch and got it out.
And boy are these great. The family from Brooklyn was SO happy to see them on the table that Thursday morning. I'd printed out the recipe for them (Jane had given them a copy last year but they'd misplaced it). But before they came to breakfast, another guest was loving the squares and requested the recipe! I've gotten I think a total of 4 recipe requests in our almost 10 months here. Two of them were for these bars. And, major bonus: they are really simple to make. Some of the best things are. We are now happily working through that file. Stay tuned: we'll be sharing more of these.
Jane says this is a Giada DeLauritis recipe. But to us they will always be Jane's bars.
APRICOT BARS
In a large bowl, combine:
1 3/4 cups all-purpose flour
1 cup brown sugar
1 tsp cinnamon
1/2 tsp salt
3/4 tsp baking soda
1 3/4 cups rolled oats (can use regular or quick)
1 cup chopped walnuts or pecans
Stir in:
2 sticks melted butter
1 egg
1 tsp vanilla
Spread about 1/2 of mixture into a 9/13 inch pan (coat with butter or butter/flour spray). Top with approx 15 oz. (not quite full jar) of apricot preserves. Cover filling with remainder of crust mixture and gently press to flatten.
Bake at 350 until light golden, about 30-35 minutes.
Cool for an hour, or overnight. Stores well for up to 3 days.
(They won't last that long.)
Can use 1/2 recipe for an 8″ square pan. You can substitute apricot jam with other fillings, such as blueberry or cherry pie filling (homemade or in a can).