Hi 2021 Towne Motel guests! We are open,  following Maine's travel regulations: Currently No more restrictions for anyone from other US states!  International travelers need to follow federal guidelines.  Our 2021 season is gearing up to be busier than expected and we're excited that many people are eager to travel and come visit Maine! Yes, it won't be as quiet here as last year, but you will still find lots of ways to stay away from crowds and enjoy the outdoors that Maine is so famous for. Midcoast Maine has everything from mountains to lakes, beaches, islands, trails and bike trails, vineyards and farmers markets — but also plenty of cultural activities, most of which are back in business this year, in one form or another,  except for some of the big Festivals, like Lobsterfest. Whether you're ready to leave the pandemic as far behind as possible this season, or whether you still want to be cautious and stay away from crowds, Maine has something for everyone.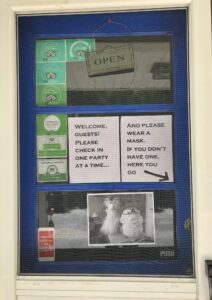 Here at Towne Motel, of course, we want you to stay healthy and safe in and around our property, and we continue to follow or exceed the state's Covid guidelines for Lodging places. Immaculately clean rooms have always been a top priority at Towne Motel, but since last year we have been working hard to make changes required by the state of Maine, recommended by hospitality organizations, and suitable for our property, guests, and employees.
Here are some of the policies we're still following this summer:
Checking in: Our check in process can be as contact free as you'd like it to be. If you prefer not to come into the office, you can let us know by phone or email in response to your reminder email, and we will let you know how and where to get your key and welcome note. Office check ins will be limited to one (small) party and / or person at a time, and commonly used surfaces and items will be sanitized after each check in. We will be wearing face coverings during check in, and we request the same of  our guests. If you can't find your mask(s), we have some for you outside the door, and there are hand sanitizers both outside and inside the office.
Common Indoor Areas: given that we have a motel, and will not open our dining rooms until it is safe enough for guests and staff to do so, the only indoor area visited by several people a day is our office, where we are observing social distancing rules as described above. Almost all guest rooms open up to the outdoors; there are only two rooms which share an interior corridor, and that corridor has a window and a door which is open during the daytime. If more than one of these rooms is occupied, please wear a mask as you walk through the corridor. 
Read the rest of this page »