When we bought the Towne Motel last year, each room came with two dark brown outdoor resin chairs in front of it, plus a small table. A few years earlier, it was white chairs with white tables- different color, same kind of chair. We found out only recently why the white was changed to brown: spider poop, and how hard it was to clean, had something to do with it. That's probably not the whole story, but it's the only one we know.
Being fans of color, and of Adirondacks, we knew we wanted something different yet again. Sure, Maine already has more Adirondacks than you can shake a hiking stick at, but that doesn't mean guests enjoy them any less. Not that our Adirondacks would come with an ocean view, like those on the fancier hotel and inn websites.(You know what I mean – two white Adirondacks photographed from the back, seemingly the only ones on a sprawling lawn, with a wide-as-the-eye-can-see ocean view ahead of them). Our views, if we wanted to use standard hotel lingo, would probably be called "garden" or "courtyard" view, maybe even "partial village" view. But at the Towne Motel we're not really into that lingo, nor do we have many rooms with a view. If people ask – and they do – we mention the view of Mt. Battie from rooms 16 and 17 (nice, but not as spectacular as the view from Mt. Battie), but otherwise we have to laugh a little. People don't really come to us for the views. Maybe we should offer view seekers one of the three upstairs rooms overlooking our patio, which can be entertaining if you want to see our cats wrestle or dodge baby pears prematurely dropping from the tree. But other than that, views are not our prime amenity.
The view from the Adirondacks? Let's call it what it is – not a "courtyard" but a parking lot view, with a partial and sideways Route 1 view mixed in. But chairs, even outdoor ones, are not primarily about views; ours are about comfort and the chance to be outdoors, talk to others, catch the late afternoon sun, read and relax, have a drink, see who's arriving or returning, and watch the traffic slow down into the village on late afternoons. Lately we've seen our guests use their ipads, have lunch, listen to audiobooks, and push several chairs together for a little happy hour before walking back into town for dinner.
Before we became innkeepers, we had a half baked thought that we'd be able to afford all kinds of stuff when "the business" would pay for it – but we learned quickly that the fancy wooden $200-300 Adirondacks would have to stay at LL Bean, and we'd have to stick with plastic if we were hoping to pay the heating bills. After all, we'd need 14 of them, maybe even 28, in case they'd fit on the second floor also. Not to mention some tables to go with them. (More on that second floor thing later)
Fortunately for us, and for those who believe in buying American, several American companies proudly manufacture colorful, affordable, and popular plastic Adirondack chairs. And come April, rows and rows of such chairs were for sale in and outside any of the hardware, home and outdoor living stores. But we had two problems to solve: transportation (neither one of our cars can haul much more than a shopping cart full of groceries, which, translated into furniture, means about two chairs), and color decisions. Last fall, we were sure we'd go with Adams chairs – there were some good colors at an end of season sale somewhere. But colors change with the seasons, and Adams chairs were no exception. Fun as the new spring chairs looked at the entrance of Reny's , we wondered if they might not be a bit too bright for us (for anyone not familiar with Reny's, it's a Maine department store which deserves its own blog post. One of its branches is just up the street from us). We do love color – but how much do we love shiny neon Pepto-Bismol and scream green ? And how well would they fit with the Towne Motel colors?
Then again, Reny's did have some nice clean white chairs, and a few in "pool blue." Maybe we could make these work? It was about the time of year we used to open our pool in New Jersey, so probably the name did the trick – while also playing a bit of a trick on us. We stuffed one chair of each color into Siobhan's trunk, and drove the block or two back to the inn. We put the chairs in front of a downstairs room to check out color and size. The size was fine. Not perfect – they certainly take up more space than the old chairs, so luggage and vacuums would need more maneuvering. But we knew that already. As for the colors — hmmm, not so much. We don't mind a Palm Springs or Florida feel (confession: we looked at a few inns for sale in these places too), but it just doesn't seem to be Maine, or the Towne Motel for that matter. We're more about weathered colors, not loud and shiny ones. The fact that we'd love a pool again is a whole different story – we did know, on a conscious level anyway, that a chair wouldn't be a good substitute, no matter how "pool blue."
What to do? Well, we stored the Adams chairs in an upstairs hallway for now; maybe we could buy more white ones and spray paint them. But we also briefly took them on the second floor balcony, just in case, by some miracle, they'd fit better than expected. They didn't. And by now Leah had trained us well enough to remember housekeeping in any inn-related decision we make. Imagining the space problems we'd have with upstairs Adirondacks, we thought of vacuum cleaners just as quickly as of guest luggage – or guests' bodies, for that matter. Although we did feel bad that the upstairs guests wouldn't have chair equality, we decided to spray paint the previously used brown chairs for the second flooor. New look, same great product! That was the plan for the balcony.
The spray paint decision wasn't made quickly though. Did we really have time to spray paint 14 Adirondacks. 14 other chairs, and 28 tables? And how well would it work on plastic? Should we invite some of the housekeepers to an outdoor spray painting party? And which colors should we use?
It was back to Home Depot for some advice and decisions, and we bought a few cans of Rustoleum in colors we liked, so we could try them out on – – well, something (maybe one of our plastic foot stools?). But it was still too cold to do any painting outside, and the whole operation got postponed until we made some progress on our "To Room 16" makeover project, which was going on at the same time (and, like the chairs, took a lot more time than expected.) And then I was back at Home Depot again, for reasons now forgotten (probably having to do with other little projects going on at the same time, such as new outside lighting, doormats, and similarly exciting stuff), and saw some Adirondacks from another company, well priced, and in some promising, un-Barbie colors. I bought one red and one slate blue, the blue much like the color of the Towne Motel sign, hoping I'd be able to fit them in my impossible-to-haul-anything-with convertible. It was drizzling, and Home Depot wasn't my last stop, so I couldn't just leave the top open, even if I had to open it to load. A nice young HD employee helped out, making sure the convertible top would fit back over the chairs….oops, an ominous sound indicated otherwise. There was no hope for more than one chair, even if stacked. Determined as I was to show Siobhan the perfect chair colors, I had no desire to sacrifice my car over $40 worth of summer plastic. Which meant, embarrassingly, that the red chair had to stay at Home Depot for now – a picture of it came instead. Rick Wolf, you were right – innkeepers need vehicles that can haul a few things. It's not that we didn't believe you! We're just pretty attached to our cars.
Back at the inn, Siobhan approved of the colors, and we ordered 12 more the next day, happily calculating the 28 cans of spray paint saved, along with a few hours of time or labor, not to mention chemical paint-induced headaches. But Home Depot doesn't deliver, and Siobhan's car wouldn't win a prize in the hauling category either. We knew what to do: get our hands on the one truck Home Depot rents out by the hour. Why just one truck, you ask? Excellent question, and we've asked it many times ourselves. You can't even reserve the truck, unless it happens to be available when you call and no one has it on hold and you say you'll be there within the half hour. "You snooze, you lose" and "get it while you can" seems to be the truck rental policy there. When we called the next morning, we were told it was rented at the moment, until at least 3 p.m.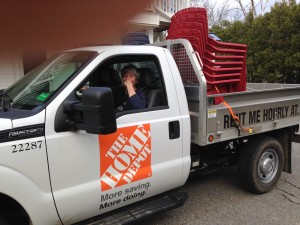 And that was no lie, as I found out on Facebook that night. A local friend had a post up about hauling leaves and debris with it all day. "So you were the one that had Home Depot's only truck out yesterday!" I wrote in response. "We were told that 'a girl' had rented it until afternoon." A reply came quickly: "I am the girl!" Aah – the joys of living in a village…
We managed to score the truck two days later, and with it the chairs. We almost never drive trucks – so we felt pretty cool and butch that day. And the chairs looked good – we decided to alternate colors from chair to chair rather than room to room – so every room had one red and one blue chair. We'll probably switch the pattern around some day this summer. But now it was a matter of deciding on tables. Home Depot didn't have any matching ones, nor did we find them anywhere else. Maybe we could just do without tables? People could put their drinks, books, snacks, or phones on the wide Adirondack arm rests, no?
No; no indeed. We thought about what Leah would say: drinks would be spilled, glasses and cell phones might break, crumbs of morning muffins, along with the plates underneath, might land on the floor. And we didn't want to be stingy. Sure, we're not known for being upscale, but we don't believe in stingy either. Maybe we could order some of these slatted Adirondack tables, which come in plastic but look almost wooden, if you're far enough away from them. I even saw some online for about 15 bucks somewhere. But by then we'd tried the spray paint on plastic; it worked great and was fun, plus we could be outside in the sun while still being productive.
We got the brown chairs and tables up from the basement, put our painting clothes on (or should I say painted? They'd been through a few activities by then), and set up shop in the back by the garage. Spray painting seems like a piece of cake at first. You just aim and spray to your heart's content, kind of like whipped cream except you don't have to watch your calories, and at the same time you see something miraculously transform right in front of your eyes. But in case you think that means we were done in a flash –not so much. There is an art to successful spray painting, and neither of us knew more than the first thing about it. The YouTube videos tend not to tell you how to avoid bubbles and drips, headaches and carpal tunnel. Probably because they weren't made by (or for) motel owners who have to spray paint more than just two chairs in their own yard. We did seven downstairs tables, in white, and seven upstairs, in alternating yellow and blue. And then we did the 14 upstairs chairs in yellow and blue. Logically, it shouldn't have taken more than an afternoon, but it did. We can blame that on our inexperience, weak wrists, impatience, or sensitive heads, but it was also about the hourly interruptions in the life of an innkeeper, moody Maine spring weather, imperfect planning (we had to trek back to Home Depot for more paint halfway through), and other ongoing projects. (One of which included more spray painting, this time of wicker chairs, which are a snap by comparison). But we did get done, and now we have our Maine Adirondacks, a row of red, blue and white, as well as a set of inherited chairs dressed in new garb. Both sets of chairs get lots of happy daily use, and no one complains about unequal chair treatment, colors, or size. Well, maybe the housekeepers sometimes, when the Adirondacks get in the way of cleaning supplies or the vacuum. Or when they become that last pain-in-the-back thing to clean at the end of the day….
Some of our little projects this spring have made me wonder: how do some inns get these major makeovers done in time for their April newsletters, when we know it can take weeks just to get one room redone, and a few days, spread out over weeks, just to get a new set of chairs in place?? This wasn't the only little spring project that started like it would involve nothing but a quick decision and a credit card, but then somehow took on a life of its own. (Don't worry – I'll spare you the stories about outside lighting or door mats for now). But given our tendency to allow little projects to grow beyond their initial life expectancy, I wonder what would happen with bigger projects. Like a porch in front of the house, decks for rooms 16 and 17, central air, or …… hm, a pool in the back, maybe instead of the garage? (Just kidding – we need that garage, and so would our cars if they knew how cozy it gets in the winter. Plus, there's that income-producing studio above it!) Well, we'd obviously hire someone for such bigger projects (and thereby open a different can of worms), and hopefully start earlier – like in November? That way, we can drag each project through several months of winter weather – and have even longer stories to tell next year!