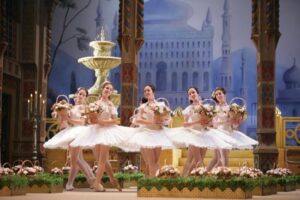 When it comes to holidays, most people are in one of two camps: those who can't wait for the shopping, feasting, and family to arrive; and those who can't wait for January 2nd. This coming weekend, November 22-24, The Midcoast caters to both camps.
Come to Camden for a weekend of art and culture – to get into the holiday mood, or simply for a peaceful getaway before the craziness descends upon you! Stay with us that weekend and enjoy a deluxe pre- holiday continental breakfast with festive decorations. When you stay a second night, get 10% off both nights!
Three special artistic events await you:
"Live from Red Square," an opera at the Camden Opera House Saturday 8 p.m.
"Le Corsaire," a ballet captured live at the Bolshoi Ballet and transmitted from
Moscow to Maine – the love story of a young Greek girl, a slave trader, and a pirate!
At the Rockland Strand theater, Sunday 2 p.m.
The Fifth Annual ArtFullGifts arts and crafts show in Northport, featuring the
creations of 50 New England artists. Enjoy their talents and get a head start on
holiday shopping at the same time! At Point Lookout Resort, November 22-24
The Towne Motel is a five minute walk to the Camden Opera House, and a fifteen minute ride South to Rockland or North to Northport.
Check out these links for more info!
http://www.rocklandstrand.com/event/le-corsaire
http://www.camdenoperahouse.com/events.cfm